2012 International Cartoonist Award
Firozeeh, Hassan Karimzadeh, Mana Neyestani & Kianoush, Iran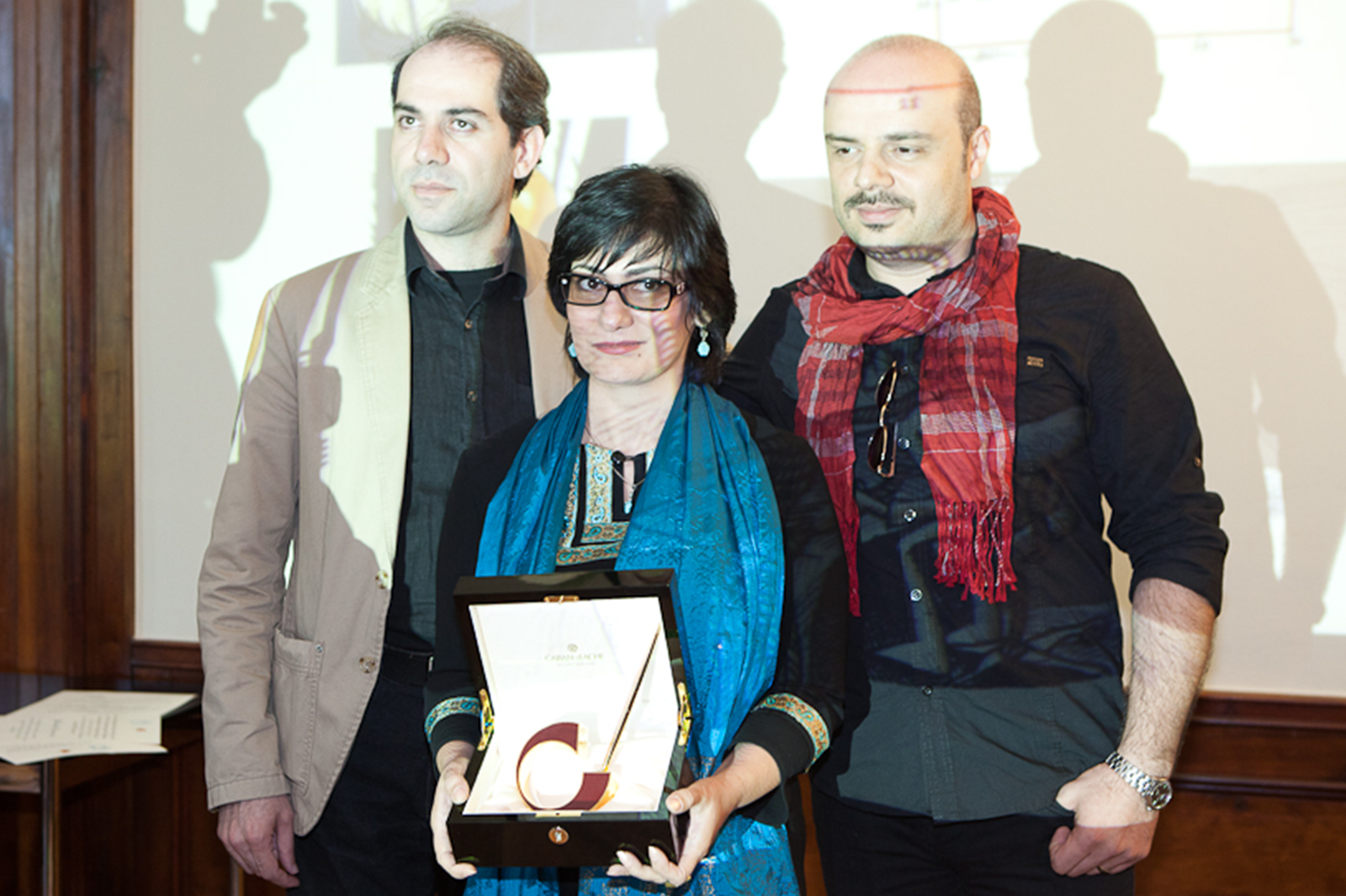 Kianoush, Firoozeh and Karimzadeh (Iran)
Geneva, Switzerland, May 3, 2012
On May 3, 2012, on the occasion of World Press Freedom Day, the Swiss Foundation Cartooning for Peace [Now: Freedom Cartoonists Foundation] recognizes for the first time editorial cartoonists whose talent, outstanding contribution and commitment to the values ​​of tolerance, freedom and peace deserve to be saluted, encouraged and supported.
Kofi Annan, Nobel Peace Prize and Honorary President of the Foundation, and Mr. Pierre Maudet, Mayor of the City of Geneva, present the International Cartoonist Award to four Iranian cartoonists, Firozeeh, Hassan Karimzadeh, Mana Neyestani and Kianoush, representatives of a new generation of courageous and talented artists.
The international jury is composed of: Kenneth Roth, Human Rights Watch Executive Director, Pierre Maudet, Mayor of Geneva, and three editorial cartoonists Plantu (France), Chappatte (Switzerland) and Liza Donnelly (USA).
Firozeeh
An Iranian-born artist, Firoozeh Mozaffari studied graphic design in Tehran.
She works with several newspapers such as Shargh, Etemad, Farhikhtegan and a news website Khabaronline. She participated as a referee in many international cartoon competitions in Iran and also in the 29th Aydin Dogan cartoon competition in Turkey. In addition to the current Award, she received several prizes for her cartoons during festivals in Iran.
Despite being an active member in the executive committee of the international cartoon biennials that take place each year in Tehran, Firoozeh boycotted the ninth event to protest against the violence after the presidential elections in 2009.
Hassan Karimzadeh
Artistic director, graphic designer and freelance cartoonist, Hassan Karimzadeh works for several Iranian publications, including Etemaad-e Melli ("Confidence of the People"). Hassan was jailed in 1992 for having produced a caricature representing Ayatollah Khomeini. After countless campaigns of protest, Lawyers without Borders were able to have him released after two years in prison. Hassan lives in Iran.
Mana Neyestani
Born in Tehran, Iran in 1973, Mana Neyestani trained as an architect at Tehran University. He began his career as a cartoonist and illustrator for cultural, political, literary and economic magazines in 1993. With the rise of Iranian reformist newspapers in 1999, he became an editorial cartoonist. In 2006 he was imprisoned because of a cartoon he published. Neyestani is now living in Paris and is a member of ICORN (the International Cities of Refuge Network).
Kianoush
Iranian artist and activist, Kianoush Ramezani has lived and worked in exile, as a political refugee in Paris since 2009. His cartoons are published by Courrier International and other French and international media such as The Guardian, Lee1, Arte, Iran Human Rights. His TEDx talk in 2014, a few months before the Charlie Hebdo tragedy, was called "Cartooning: the art of danger".
Kianoush is the founding President of United Sketches, an association promoting freedom of expression and supporting exiled cartoonists.
2022 Kofi Annan Courage in Cartooning Award
Vladimir Kazanevsky, Ukraine
Gàbor Pàpai, Hungary
2018 International Cartoonist Award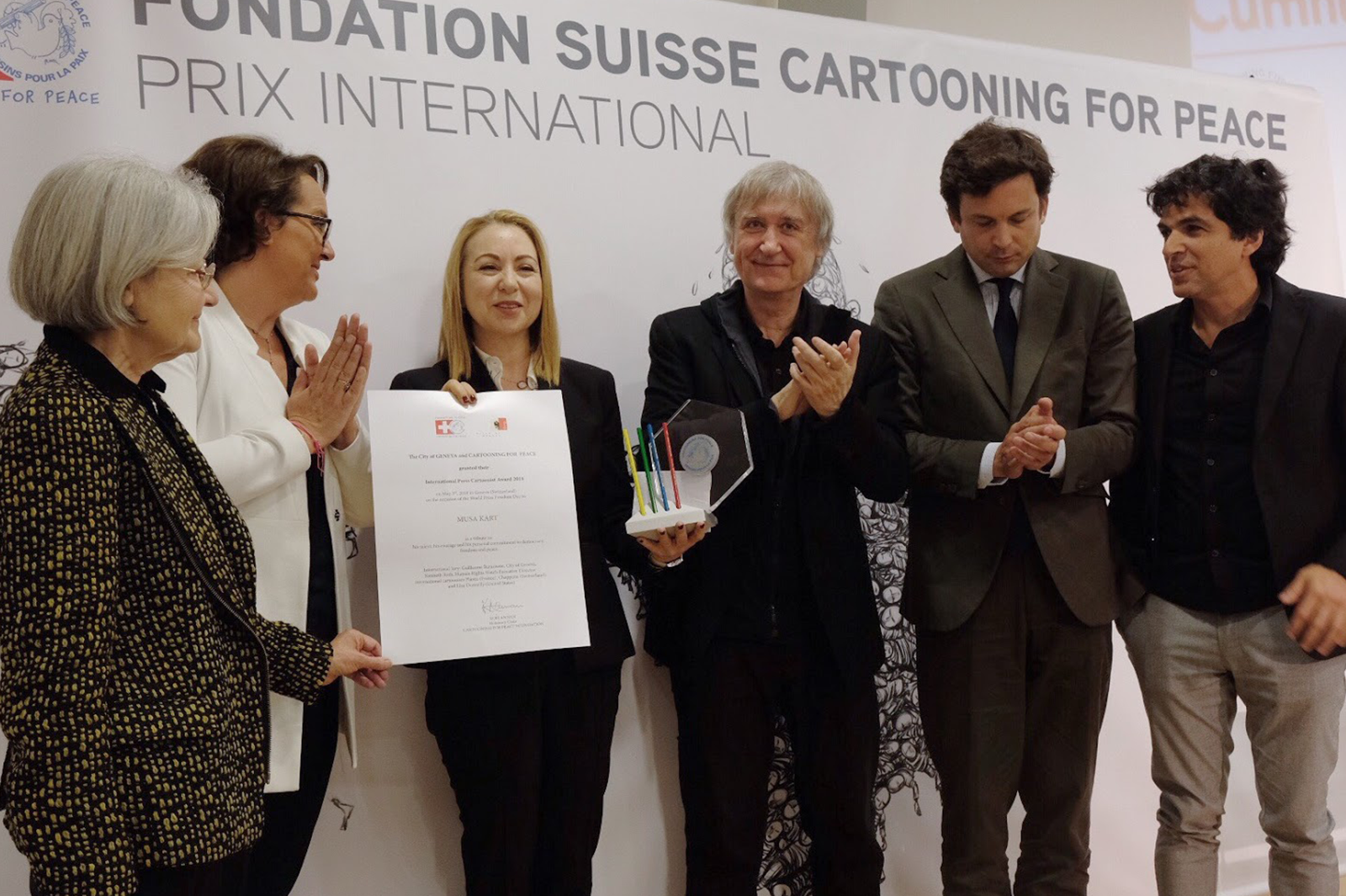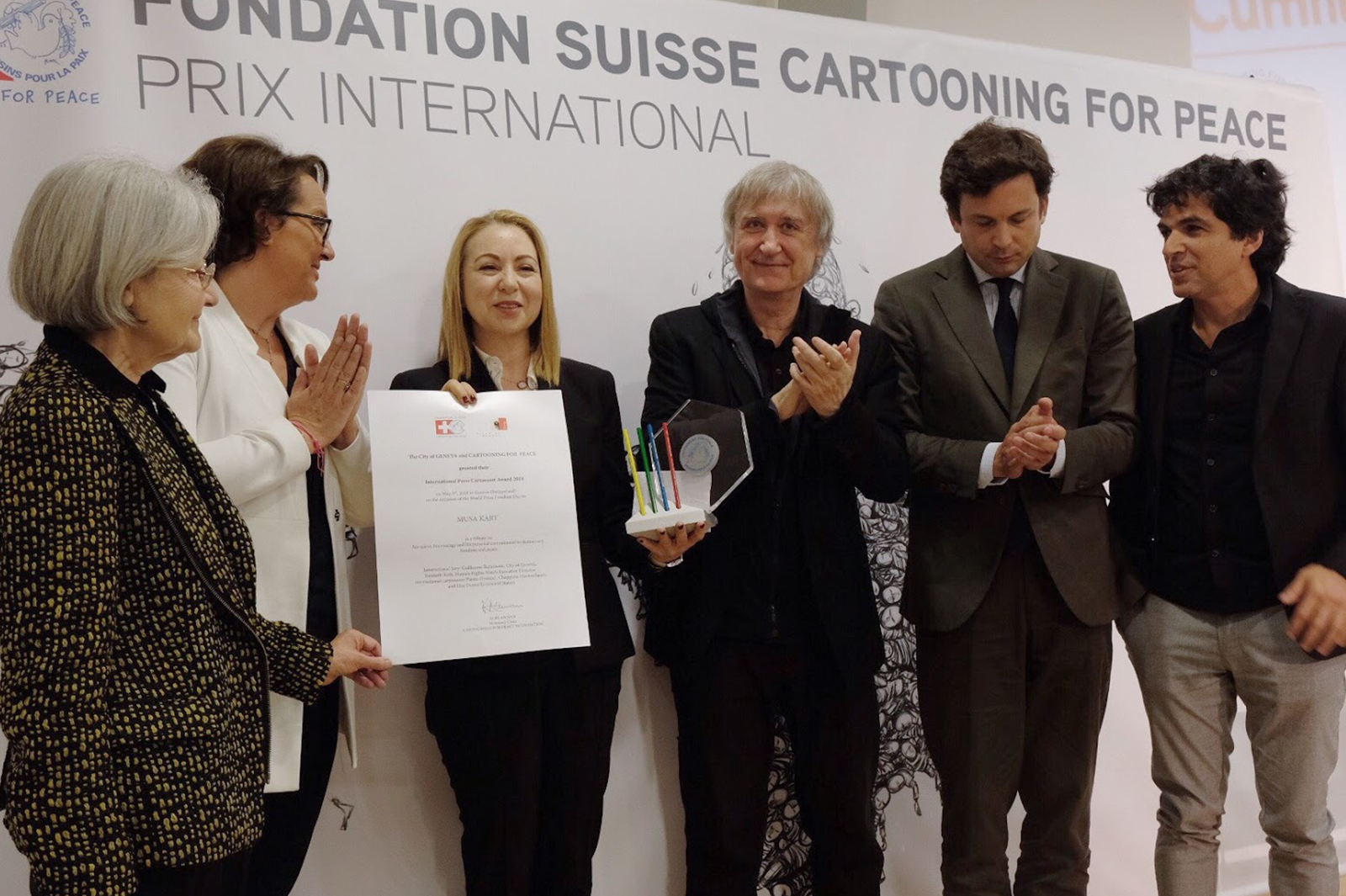 2016 International Cartoonist Award
Zunar, Malaysia
Gado, Kenya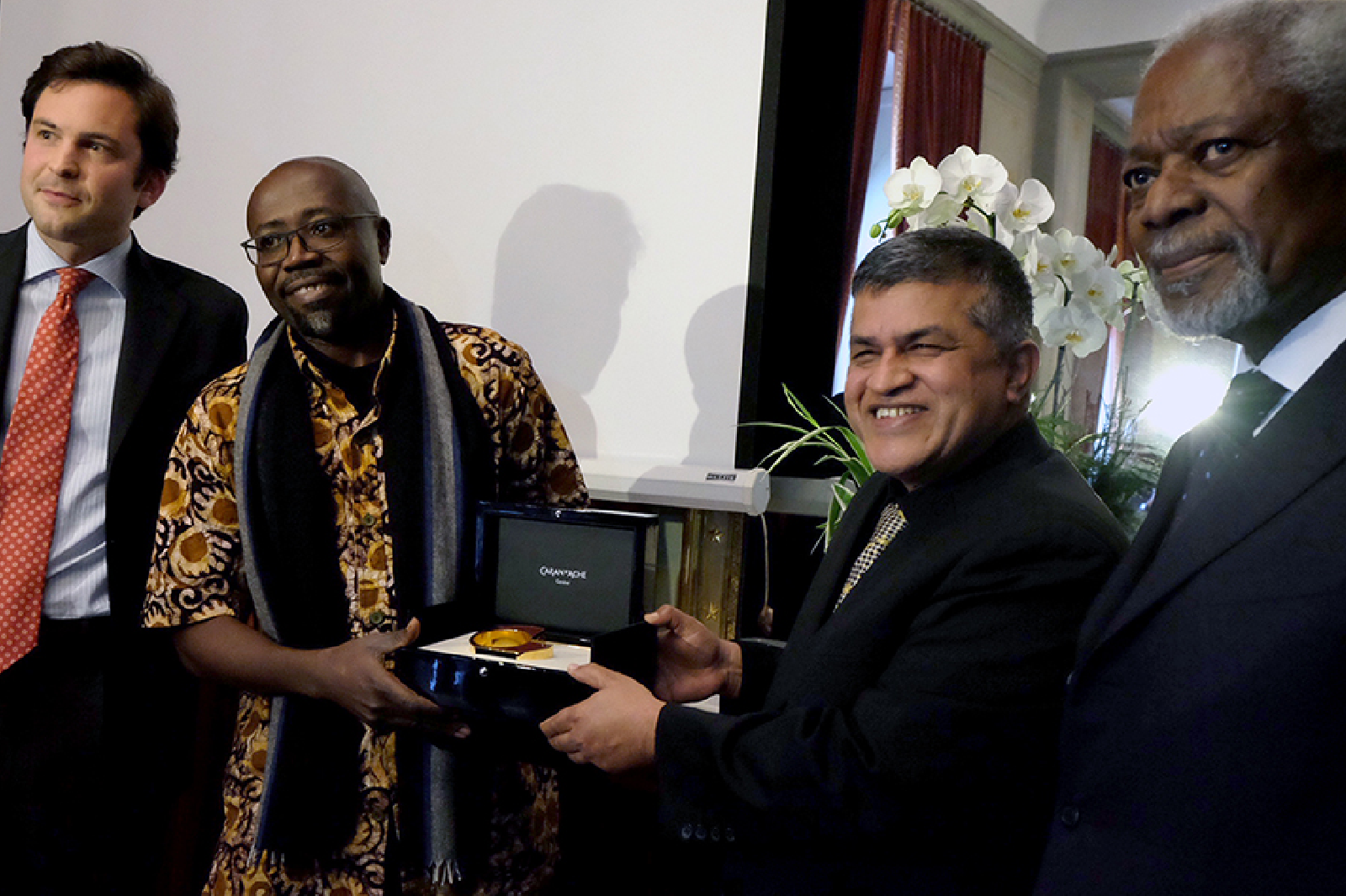 2014 International Cartoonist Award
Hani Abbas, Syria and Palestine
Doa Eladl, Egypt