Support Fund for Cartoonists
With the support of the Pro Victimis foundation and private donors, our Foundation manages a pool of funds dedicated to supporting cartoonists in danger and in need of help. Cartoonists from Malaysia, Venezuela and Syria have benefited from this help since 2017.
In 2020 the Foundation launched the pilot educational project "Creative Drawing for Humanity": a series of cartooning classes held by Hani Abbas in schools across Geneva. The classes have been organized in collaboration with the Département de l'instruction publique, de la formation et de la jeunesse (DIP) and NGO Enfants du Monde.
Hani Abbas, Laureate of the 2014 International Cartoonist Award, designed a series of three modules which offer students the chance to learn basic drawing techniques and to use them as a means to express themselves. The classes stimulate students with an innovative mix of art and culture. The key objectives of Hani Abbas's Project are:
Promote values such as: justice, freedom, equality and tolerance through drawing, with a focus on the importance of peace.
A focus on dialogue and discussion as motivational tools and a means for students to express their creativity.
Encourage students to discover their own artistic inclination and to find their own style, using the simple techniques taught by Hani Abbas.
To allow the free flow of imagination of the students by making them aware of the power of drawing and graphic design. Support talented students who wish to pursue an artistic career in the future.
Help teachers by bringing in an additional skill, i.e. by merging traditional art and illustration courses with the above mentioned values.
See the project's description on the website of Geneva's Département de l'instruction publique
Interested in bringing this project to your class?
Beethoven, Plantu & Chappatte, A Symphony in Cartoons
September 16, 2016, Victoria Hall, Geneva, Switzerland
Orchestre de la Suisse Romande. Conductor: Antony Hermus.
Ten years after the creation of the Cartooning for Peace network in New York by Kofi Annan and a dozen international editorial cartoonists, the Swiss Foundation organized a benefit concert on September 16, 2016, in Genenva's Victoria Hall. A special event in support of cartoonists threatened all around the world for putting their talent and courage at the service of democracy, justice and human rights.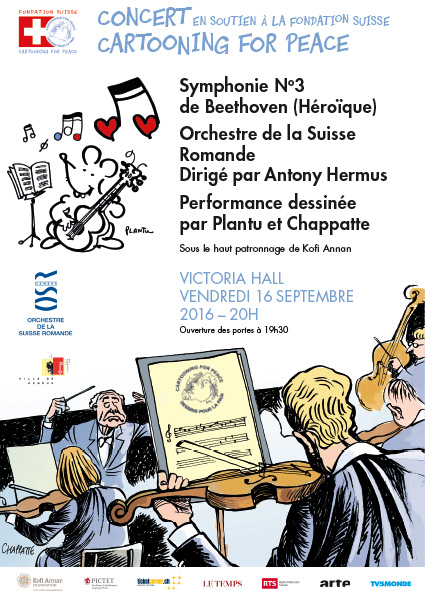 The Orchestre de la Suisse Romande, under the direction of the Dutch conductor Antony Hermus, performed Ludwig Van Beethoven's Third Symphony ("Eroica"), while cartoonists Chappatte and Plantu, both founding members of the Foundation, drew live during the four movements of the symphony.
The money raised was entirely donated to the Foundation's Support Fund created to help and defend cartoonists who are prevented from practicing their art in their countries. The OSR musicians who are deeply attached to freedom of expression and artistic creation offered to play for free for the Swiss Foundation as a gesture of solidarity with the murdered Charlie Hebdo cartoonists, gunned down in Paris on January 7, 2015. The concert was recorded and aired on television in Switzerland, France, Belgium and Canada.
The Foundation would like to thank the OSR musicians for this generous gesture as well as the City of Geneva and its media partners RTS, TV5, Arte, and the daily newspaper Le Temps.
Cartoons exhibit "Chappatte – Gare aux dessins" 
We are pleased to have presented, with the MBAL (Musée des Beaux Arts du Locle) and the City of Geneva, the exhibition "Chappatte – Gare aux dessins!", from December 17, 2021 to March 13, 2022 (after extension), at the "Bâtiment d'art contemporain" in Geneva, Switzerland. An exhibition that explores the editorial caricature and its issues in the current world.
Gare aux dessins! is a condensed version of 30 years of press cartoons by Chappatte. With special guest, the Palestinian cartoonist Hani Abbas. And as a bonus, an overview of the threats to political cartoons in the world illustrated by the cases of drawings that have caused controversy signed Muza Kart (Turkey), Zunar (Malaysia), Pedro Molina (Nicaragua), Ann Telnaes (USA), Xavier Gorce (France) and many others .
360° visit based on the original exhibition. Virtual exhibition co-financed by the Freedom Cartoonists Foundation, Geneva.
To bring the exhibition to your city: info@freedomcartoonists.com