† Kofi Annan, Honorary Chair until 2018, with founders, from left to right: Plantu, Marie Heuzé, Chappatte
The Freedom Cartoonists Foundation (Formerly: Swiss Foundation Cartooning for Peace) supports professional editorial cartooning as an essential part of civic debate. We stand for a free press as a pillar of democracy, of which political cartoons are a vital element. Through our actions, we defend freedom of speech in a spirit of dialogue.
The Foundation pursues its mission through two main activities: the biennial International Cartoonist Award, accompanied by a cartoon exhibition, and the Support Fund for threatened editorial cartoonists. We also organize educational projects aimed at fostering creativity, tolerance and an understanding of human rights.
The International Cartoonist Award
by the Freedom Cartoonists Foundation and the City of Geneva
The 2020 Award was canceled due to the Covid-19 pandemic crisis.
2018 Award
Musa Kart, Turkey
Musa Kart is the recipient of our fourth International Cartoonist Award. Kofi Annan, Nobel Prize laureate and Honorary Chair of our Foundation, wrote: "Musa Kart and his colleagues confront us with our own responsibility to preserve freedom of expression, to act in support of their struggle and to provide assistance to those who are deprived of expressing themselves through their art and risk years of imprisonment for their drawings. The Turkish cartoonist was prevented from traveling to Geneva. His wife received the Award in his name in Geneva, on May 3, 2018.
The International Cartoon Exhibition
by the Freedom Cartoonists Foundation and the City of Geneva
In January 2019, The World Economic Forum asked our Foundation to present works of editorial cartoonists from all over the world in Davos. Related panels were organized at the Annual meeting.
2018
Freedom Cartoonists Foundation Award 
In May and June 2018, Quai Wilson, on the sunny banks of Geneva Lake, hosted our biennial international cartoon exhibition, featuring works from the 2018 laureate Musa Kart, as well as cartoons from all over the world distributed in three sections: "Women's rights", "Fake news and populism", "The new walls".
The Robert Russel Courage in Cartooning Award
by our partner Cartoonists Rights Network International
The 2021 Robert Russel Courage in Cartooning Award will be announced in September 2021
Je mettrais un tout petit texte pour introduire les actions ici…
Support Fund for Cartoonists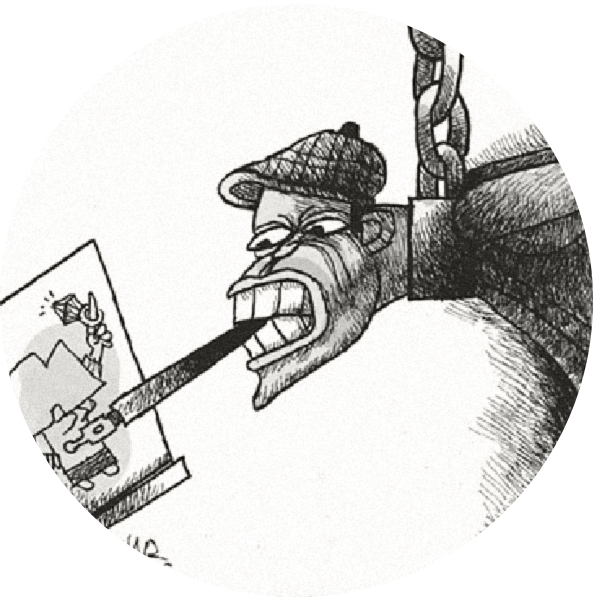 Support Fund for Cartoonists