La Freedom Cartoonists Foundation et la Ville de Genève ont le plaisir d'annoncer une journée exceptionnelle dédiée à la liberté des médias et du dessin de presse mardi 3 mai 2022, en présence des Prix nobel de la Paix 2021, Madame Maria Ressa et Monsieur Dmitry Muratov.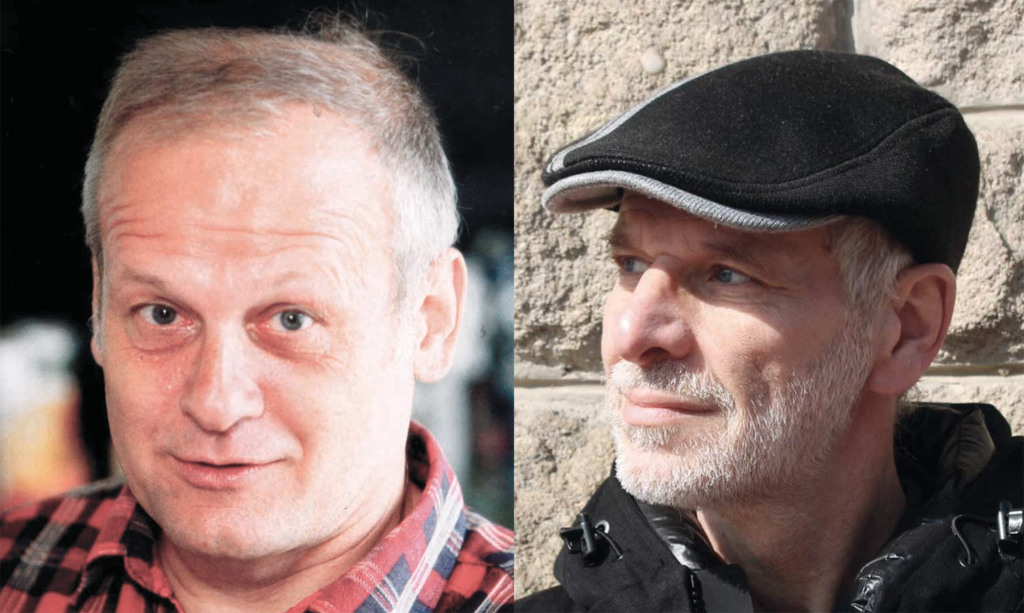 The Award, first established in 2012 with a ceremony held every two years in Geneva, celebrates the talent and courage of cartoonists who work in difficult conditions and contexts, on the occasion of World Press Freedom Day: the 3rd of May. The Award honours editorial cartoonists for their outstanding contribution to human rights and freedom of expression. This year's prize is endowed with CHF 15,000. The 2020 edition had to be cancelled due to the health crisis.
The Jury was composed of Kenneth Roth, Human Rights Watch (president), Sami Kanaan, City of Geneva and editorial cartoonists Ann Telnaes (USA), Kak (France) and Chappatte (Switzerland).
The 2022 winners are Vladimir Kazanevsky from Ukraine and Gàbor Pàpai from Hungary.
"We are particularly proud to present them with the Kofi Annan Courage in Cartooning Award in the presence of prominent journalists and co-laureates of the Nobel Peace Prize, Maria Ressa and Dmity Muratov: they all share a strong sense of justice and a will to resist. Cartoonists do it through their art and take huge risks in showing the emperor is naked and in depicting the full brutality of autocrats." said Patrick Chappatte, president of the Freedom Cartoonists Foundation.
Vladimir KAZANEVSKY, UKRAINE
Dessinateur emblématique d'Ukraine, Vladimir Kazanevsky travaillait dans son studio le 24 février, tôt le matin, lorsqu' il a entendu de fortes explosions près de l'aéroport. Son épouse et lui se sont retrouvés à l'Ouest de l'Ukraine, avec la cohue catastrophique de familles fuyant les bombardements. Ils décidèrent de passer la frontière polonaise, jusqu'à Presov, ville de Slovaquie abritant une communauté d'artistes.
Privé de son matériel de dessin laissé à Kiev, de ses catalogues et de ses livres, Vladimir Kazanevsky a continué à dessiner sans relâche : Poutine en action, sur un tank ou à la proue du Titanic. « Les autocrates et les dictateurs ont peur de nos cartoons et ils ont raison parce que nos dessins sont des armes en marche », dit-il.
Farouchement déterminé à poursuivre le combat contre l'agression russe, à 71 ans, il considère son travail comme un acte de résistance. Une défense de la liberté d'expression contre la propagande de guerre.
Gàbor PAPAI, HUNGARY
Depuis plusieurs années, le dessinateur hongrois Gàbor Pàpai et son journal Népszava – seul quotidien d'opposition encore en vie à Budapest – font l'objet d'attaques et de procédures judiciaires de la part des autorités – au sein même de l'Union européenne !
La religion catholique, la lutte contre le covid ou plus simplement l'Histoire hongroise sont autant de prétextes à des poursuites dans un pays figurant en 2021 au 92e rang du classement mondial de la liberté de la Presse par Reporters Sans Frontières (RSF). Une position honteuse qui ne cesse de se dégrader depuis que Viktor Orbán en est devenu Premier Ministre, mettant tous les médias indépendants en grande difficulté. Certains comme Népszava sont directement menacés de disparition. Gàbor Pàpai, loin de se laisser intimider, continue à observer et dessiner la vie politique en Hongrie.
The 2022 winners are exhibited on the Quai Wilson until 31 May 2022. The exhibition DESSINS POUR LA LIBERTE, featuring 60 press cartoons collected by the Swiss foundation Freedom Cartoonists in partnership with Cartooning for Peace (Paris) and Cartoonists Rights Network International (USA), and selected by curator Patrick Chappatte, covers three topical themes: « war in Europe », « a COVID life » and « the climate, it's hot! « 
The Kofi Annan Courage in Cartooning Award, will alternate biannually with Cartoonists Rights Network International's prize, the "Robert Russell Courage in Cartooning Award". Through these awards, both organizations will honour extraordinary contributions to freedom of expression made by editorial and political cartoonists, often despite the most difficult of circumstances.